Women in Construction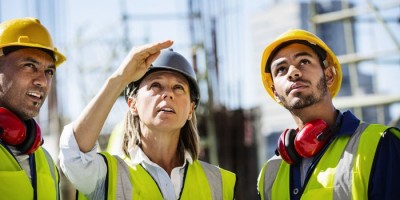 Women construction leaders discuss building their careers, demolishing glass ceilings.
At the beginning of her career, civil engineer Rebecca Clark tried to stay under the radar and assimilate with her peers — almost all of them men. For many years she thought it was important to not stand out in the workplace.


As she rose in her career and saw more women entering the construction field, she began to embrace her unique skill set.

Clark, now an operations executive at Skanska, was part of a panel at the sold-out Women in Construction Leadership and Networking Conference here on Oct. 19. She and three other women panelists told the audience of 450 that in a male-dominated field like construction, female employees' skills and talents are invaluable.

These strengths include perceptiveness, organizational and listening skills, empathy and a willingness to collaborate, speakers said.
"Maybe it means you can read somebody's body language in a meeting or the scowl on their face to know how to pivot the conversation and redirect the discussion to your advantage," said moderator Clare Archer, vice president at Gilbane Building Co.

Females' unique set of traits dovetail with those of men in the office and on the jobsite, panelists said. "What I've learned over the years from working in this field is that men and women are different and that's OK," Archer said.

Brailsford & Dunlavey Senior Project Manager Sarah Pearlstein agreed, telling attendees that when it comes to construction projects, "there's more than one way to skin a cat. Some people go from A to B to C and some go from A to Z back to B and C," she said. "Both of those types of people get to C in their own way."
Panelists provided an array of advice to women in the industry, including:
Women should not be afraid to stand out at work, Pearlstein said. "Build your personal brand, get involved and make sure you find things that you care about, whether it's your local Women in Construction chapter or whatever that passion looks like for you," she said. "Get involved so that it's not just people in your company but people in the industry recognize you."
Clark echoed that sentiment, saying female workers should champion things they are passionate about such as community involvement, mentoring younger workers, or driving change in the workplace. "Even if it's for something that's going against the tide, you will stand out if you're passionate about whatever initiatives you're behind."
Archer recommended the book "How Women Rise: Break the 12 Habits Holding You Back from Your Next Raise, Promotion, or Job" by Sally Helgesen as a resource to help identify and overcome issues that slow women's career success.
Women in construction have to be thick-skinned and willing to claim their achievements, Archer said, urging audience members not to diminish their worth. "Sometimes we minimize with our words, such as "this will just take a minute' or 'I just need you for this one quick thing,'" she said. "This gives the impression that your opinion isn't valuable enough for anyone to spend time listening to."
Female managers should try not to take it personally if coworkers disagree with a decision. "It's just not possible to always make everybody happy," Pearlstein said. "Don't feel like if people aren't pleased with the way you're moving forward that you made the wrong decision."
Additionally, if a woman makes a mistake, she should avoid dwelling on it, said panelist Amy Mercurio, senior director of design and construction for Johns Hopkins Facilities & Real Estate. "I'm constantly Monday morning quarterbacking," she said. "It's better to accept what you did and know you'll do better next time."
A common habit of female employees, sharing personal information, sometimes puts women in a negative light, Archer said. "Women share their faults and problems as a way to bond with one another," she said. "Men don't do that, and for the most part they set workplace cultural standards around the world so routine personal disclosures about your doubts and weaknesses are more likely to diminish your credibility than to help it."
All panelists mentioned the importance of developing mentors, both men and women and both in and out of the construction industry. "Find a safe space of coworkers that you can trust," Clark said. "There's a lot of power in that."
Pearlstein noted that making time for working with a mentor is important but sometimes difficult. "Those types of relationships require some work, because the person might not be three doors down the hallway from you," she said. "Go to lunch, grab coffee, make those long-lasting relationships. They'll really go a long way."
To read the original online article – CLICK HERE