Cave of Crystals "Giant Crystal Cave" at Naica, Mexico is all a form of Gypsum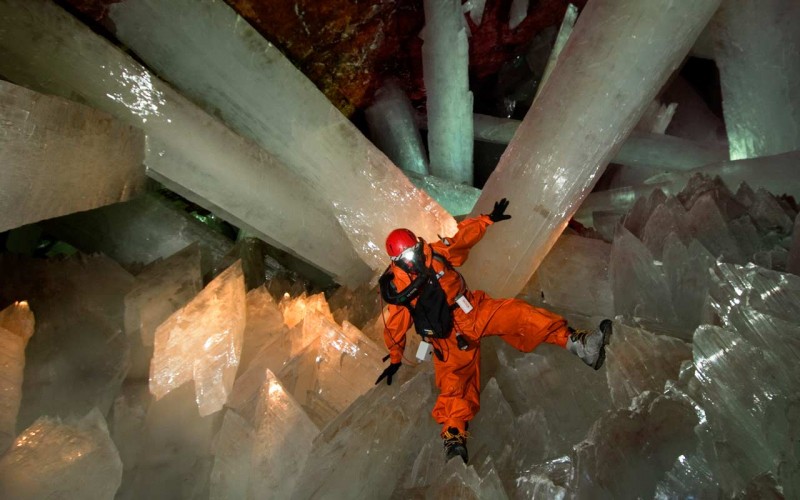 Discovered by chance, the secret Mexican crystal caves big enough to drive a car through.
The Naica Mine of the Mexican state of Chihuahua, is a working mine that is best known for its extraordinary selenite crystals. Located in Naica in the municipality of Saucillo, the Naica Mine is a lead, zinc and silver mine operated by Industrias Peñoles, Mexico's largest lead producer. Caverns discovered during mining operations contain crystals of selenite (gypsum) as large as 4 feet (1.2 m) in diameter and 50 feet (15 m) long.
Formation of the gypsum crystals
Naica lies on an ancient fault and there is an underground magma chamber below the cave. The magma heated the ground water and it became saturated with minerals, including large quantities of gypsum. The hollow space of the cave was filled with this mineral-rich hot water and remained filled for about 500,000 years. During this time, the temperature of the water remained very stable at over 50 °C (122 °F). This allowed crystals to form and grow to immense sizes.
How did the gypsum crystals reach such superheroic proportions?
In the new issue of the journal Geology, García-Ruiz reports that for millennia the crystals thrived in the cave's extremely rare and stable natural environment. Temperatures hovered consistently around a steamy 136 degrees Fahrenheit (58 degrees Celsius), and the cave was filled with mineral-rich water that drove the crystals' growth.

Modern-day mining operations exposed the natural wonder by pumping water out of the 30-by-90-foot (10-by-30-meter) cave, which was found in 2000 near the town of Delicias. Now García-Ruiz is advising the mining company to preserve the caves.
Exploration and scientific studies
A scientific team coordinated by Paolo Forti, specialist of cave minerals and crystallographer at the University of Bologna (Italy) explored the cave in detail in 2006. To survive and to be able to work in the extreme temperature and humid conditions which prevent prolonged incursion in the crystal chamber, they developed their own refrigerated suits and cold breathing systems (respectively dubbed Tolomea suit and Sinusit respirator).


Special caving overalls were fitted with a mattress of refrigerating tubes placed all over the body and connected to a backpack weighing about 20 kg (44 lbs) containing a reservoir filled with cold water and ice. The cooling provided by melting ice was sufficient to provide about half an hour of autonomy.

Beside mineralogical and crystallographic studies, biogeochemical and microbial characterization of the gypsum giant crystals were also performed. Stein-Erik Lauritzen (University of Bergen, Norway) performed uranium-thorium dating to determine the maximum age of the giant crystals, about 500,000 years.


Penelope Boston (New Mexico Institute of Mining and Technology), speleologist and geomicrobiologist specialist of extremophile organisms realized sterile sampling of gypsum drillcores by making small boreholes inside large crystals under aseptic conditions. The aim was to detect the possible presence of ancient bacteria encapsulated inside fluid and solid inclusions present the calcium sulfate matrix from its formation.

Solid inclusions mainly consist of magnesium and iron oxy-hydroxide but no organic matter could be found associated with the solid hydroxides. No DNA from ancient bacteria could be extracted from the solid inclusions and amplified by PCR.

Microbial studies on fluid inclusions are foreseen to attempt to evidence the presence of ancient micro-organisms in the original fluid solution in which the crystals developed.

Other researches also cover the fields of palynology (pollen study), geochemistry, hydrogeology and the physical conditions prevailing in the Cave of Crystals.
To read the original online article – CLICK HERE