2023 Texas Quality Seal Coat Award
Arcosa Lightweight recently received the 2023 Texas Quality Seal Coat Award. The Texas Seal Coat Awards Program was started 3 years ago as a joint effort between the Texas Asphalt Pavement Association (TXAPA) and Texas Department of Transportation (TXDOT).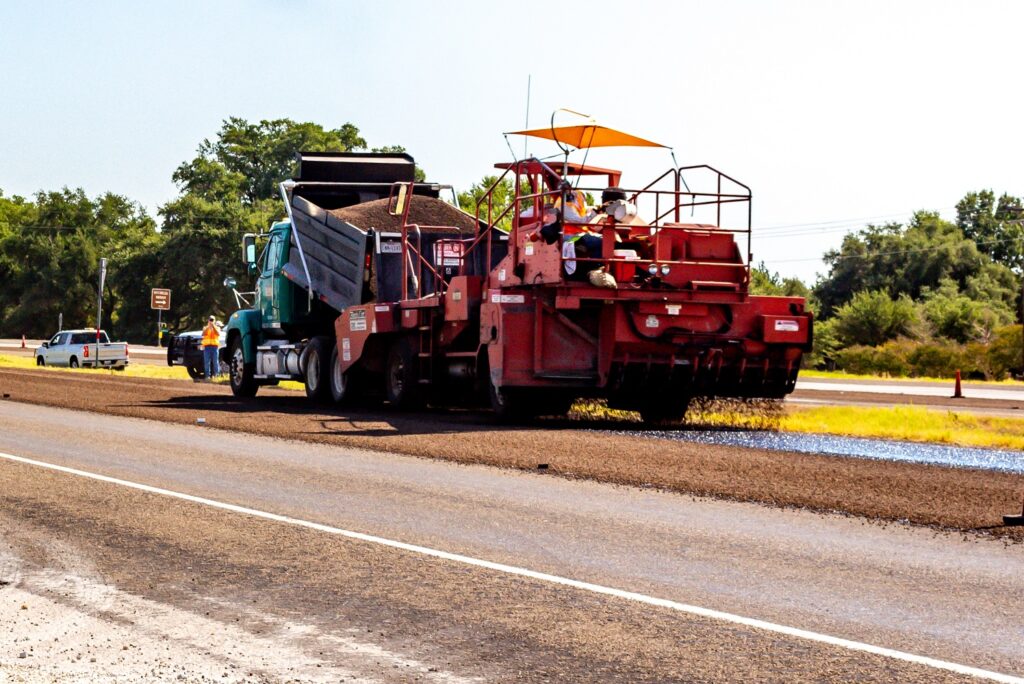 ---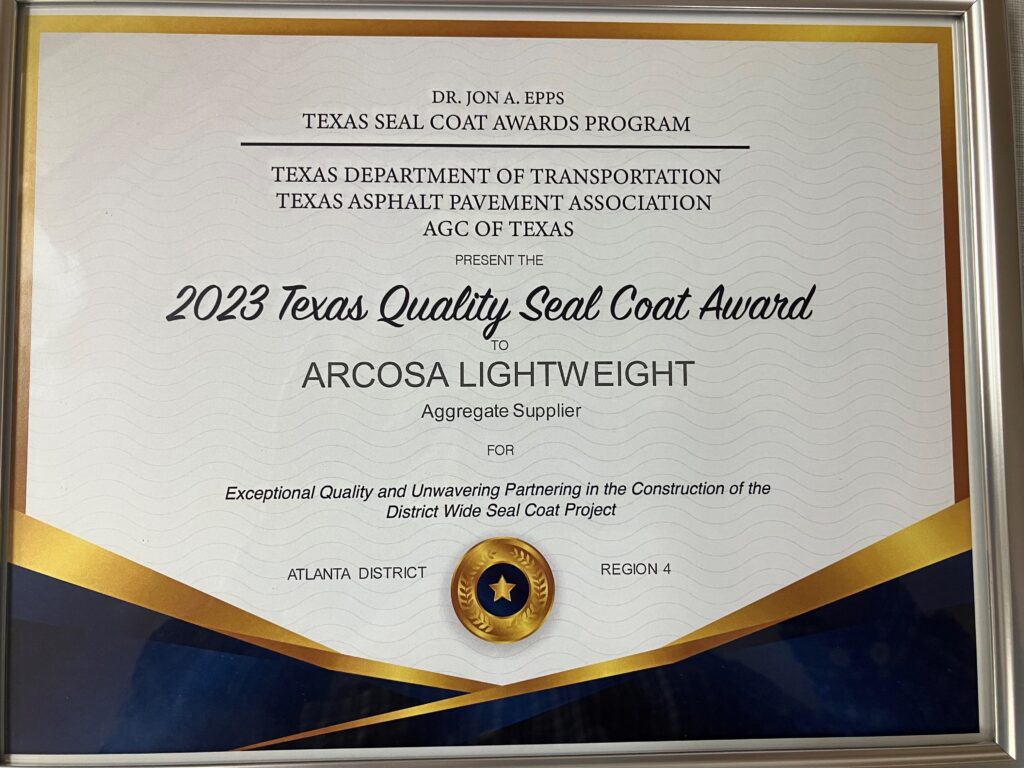 They are regional awards based on quality of the work, aesthetics and ride quality and judged by a panel of TXDOT and industry experts.
Arcosa Lightweight has received the top aggregate supplier every year that this honor has been awarded. The award is shared award between contractor, local TXDOT office, striping company, asphalt and rock supplier.
---
Accepting the awards on behalf of the Arcosa Lightweight Streetman Plant are (from L-R): Josh Yates, Streetman Plant Manager; Don Vernon, South Texas Sales Representative; Julius Maciel, Streetman QC; and Dennis Farmer, Streetman Head Dispatcher.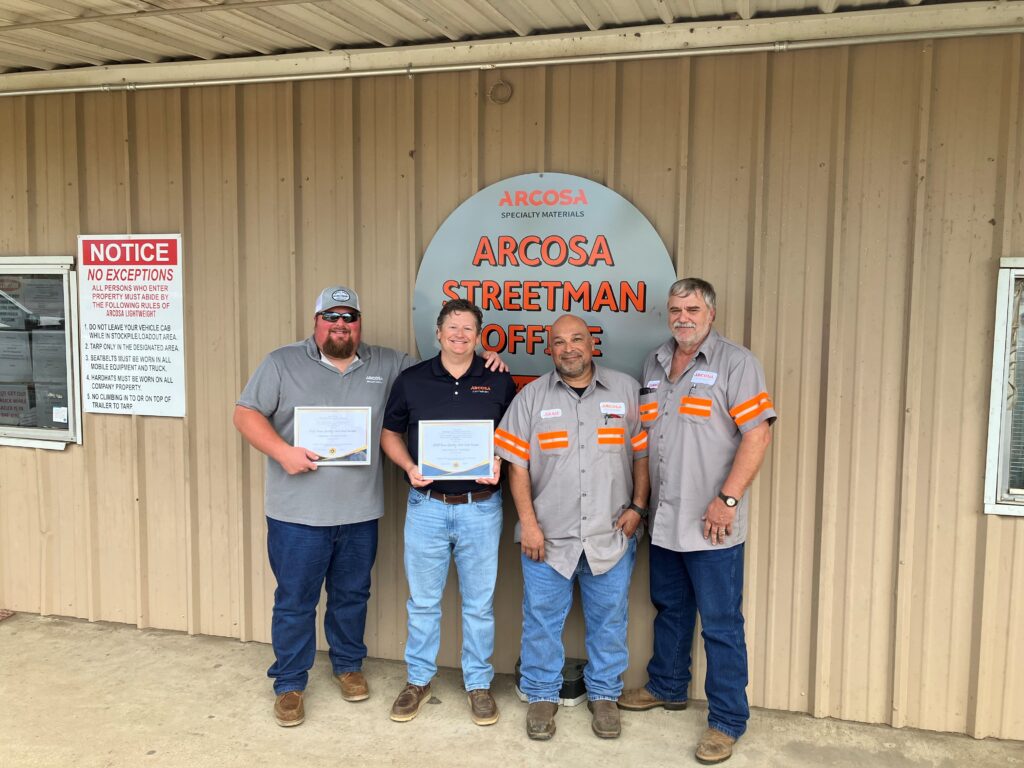 ---
Want to know more about Chip Seal? Find your answers or talk to an expert HERE
New Construction Surges in February
The increase comes as builders report being more optimistic about the market. Builders showed renewed optimism in February, pulling more permits and beginning construction on more housing units, the Census Bureau and the Department of Housing and Urban Development said on Thursday.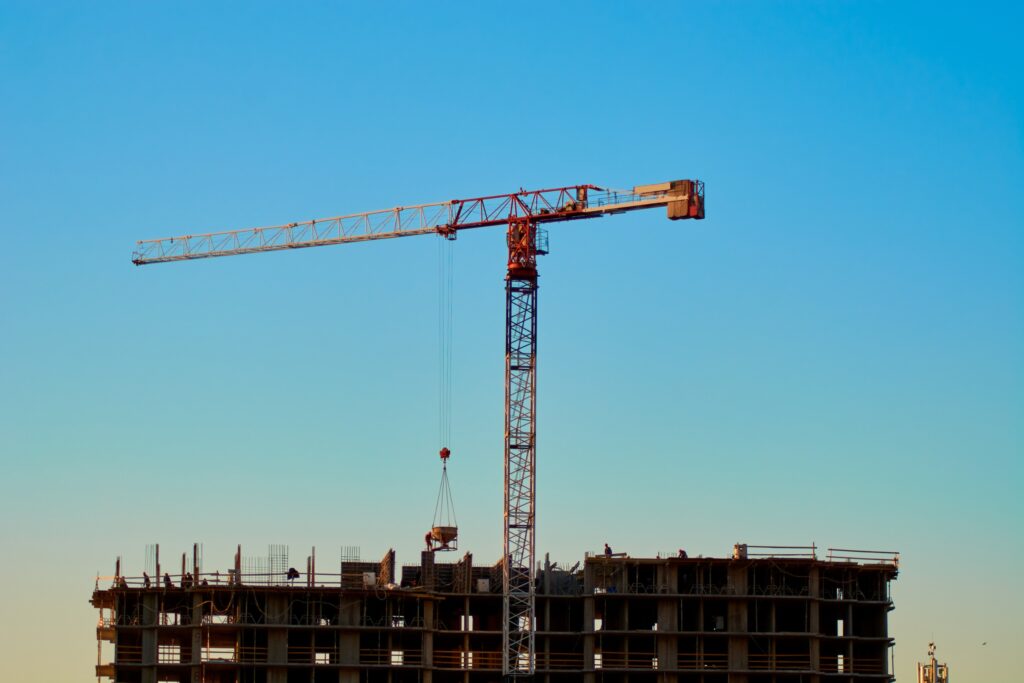 The number of permits rose 13.8% to an annual rate of 1.5 million, while January's number was revised slightly upward. Building starts increased 9.8% to an annualized 1.45 million from the prior month's revised rate of 1.32 million.
The level of activity remains about 18% below a year ago, however. A lot of the gains came in multi-family construction. Increases were strongest in the South and West.
"The uptick in new starts this month reflects rebounding homebuyer demand and improved builder confidence," said Lisa Sturtevant, chief economist for Bright MLS. "However, recent troubles in the banking industry could quash the momentum that has been building up in the new housing sector."
Builder confidence rose in March by two points, according to the National Association of Home Builders/Wells Fargo Housing Market Index released Wednesday. It was the third straight monthly increase in builder sentiment.
"Even as builders continue to deal with stubbornly high construction costs and material supply chain disruptions, they continue to report strong pent-up demand as buyers are waiting for interest rates to drop and turning more to the new home market due to a shortage of existing inventory," said NAHB Chairman Alicia Huey, a custom home builder and developer from Birmingham, Alabama. "But given recent instability concerns in the banking system and volatility in interest rates, builders are highly uncertain about the near- and medium-term outlook."
The monthly survey found that builders were relying on incentives to sell homes, with 31% reporting they had lowered prices in March, the same as in February but lower than was reported late last year.
"Conditions are still considered "poor" overall, but the improvement signals that builders are feeling cautiously optimistic," Odeta Kushi, deputy chief economist at title insurer First American, said ahead of the construction data's release.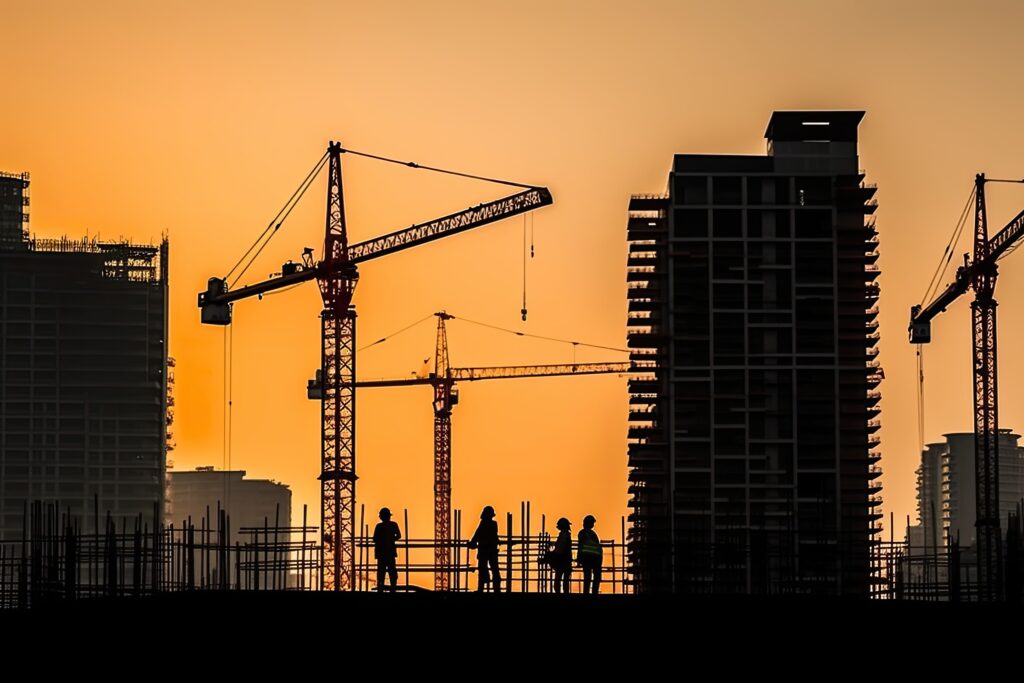 "One of the drivers behind higher builder sentiment is the lack of existing-home inventory available for sale," Kushi added. "The shortage of existing home inventory means more and more buyers could turn to the new home market. And while three months of higher home builder sentiment may indicate a turning point for single-family homebuilding, builders continue to face headwinds in the form of higher construction costs and an affordability-constrained housing market."
Kelly Mangold of RCLCO Real Estate Consulting, said that, "On a positive note, the number of existing homes on the market has reached record low levels which is giving new homes less competition – and they are often one of the only options for motivated buyers."
"We are currently in a period of economic uncertainty, and it is possible that we could see improvements as the year progresses, or that starts could experience a continued decline if we enter a true recession," she said.
---
This article originally appeared on US News. The entire article can be found here: https://www.usnews.com/news/economy/articles/2023-03-16/new-construction-surges-in-february
2023 Begins With 'Positive Momentum' For Construction
News from the Dodge Construction Network indicates that total construction starts closed 2022 on a winning streak, rebounding in December from the previous month to post a 27% gain for a seasonally adjusted annual rate of $1.185 trillion. That's the first monthly year-end jump since 2017.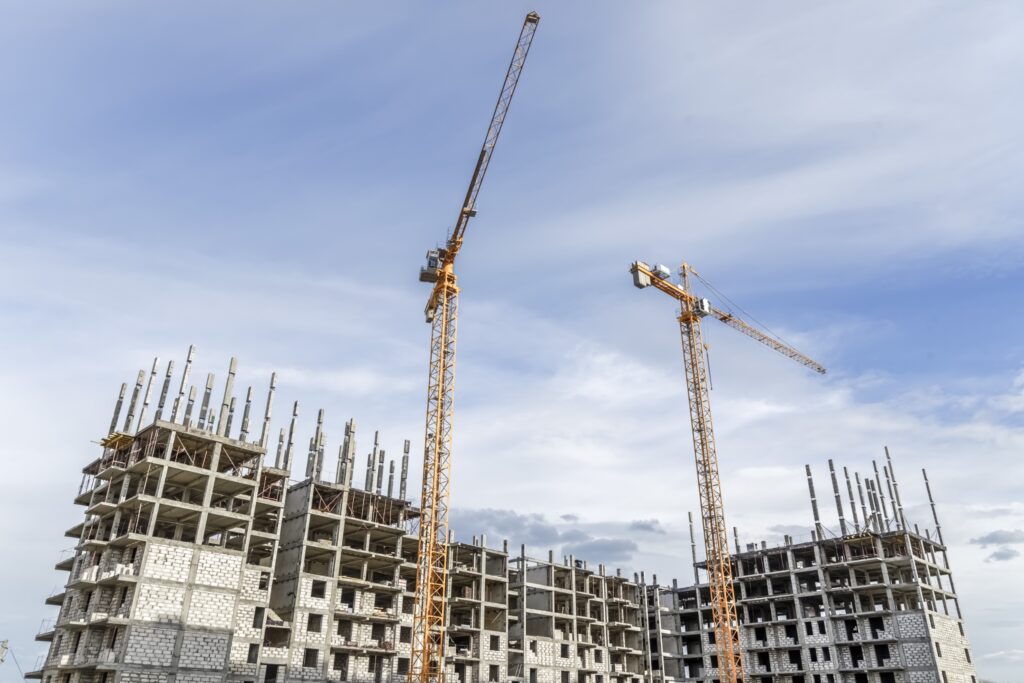 The sector was led by nonresidential building starts, which grew to $549.6 billion on a seasonally adjusted annual basis, a 51% jump from November. Nonbuilding construction, which includes infrastructure projects such as roads and bridges as well as utilities and pipelines, was also up 30%, at $281.4 billion, while residential construction starts were flat.
For all of 2022, total construction starts were 15% higher than a year earlier. Nonresidential buildings – think commercial properties and plants – gained 38% year over year, while the nonbuilding sector posted a 19% rise. Residential starts, hammered by higher mortgage rates, were down 3% for the year.
"December starts revealed where the current strength in construction lies: manufacturing and infrastructure," said Richard Branch, chief economist at Dodge, in a press release. "It is those segments that will provide insulation for the sector as the economy softens in 2023."
Branch said that he expects higher interest rates to weigh on the economy and restrain construction starts in 2023, but "it's encouraging to know that the new year is starting with a great deal of positive momentum."
The buoyancy in the sector came just as construction pros received good news on the materials front. Construction input prices fell 2.7% in December, their largest drop since April 2020 early in the pandemic, signaling that meaningful relief from inflation may finally be materializing in the sector, even as recession fears remain.
The starts numbers also show how the construction sector generally – and commercial and infrastructure projects specifically – could offer contractors shelter from any brewing economic storm.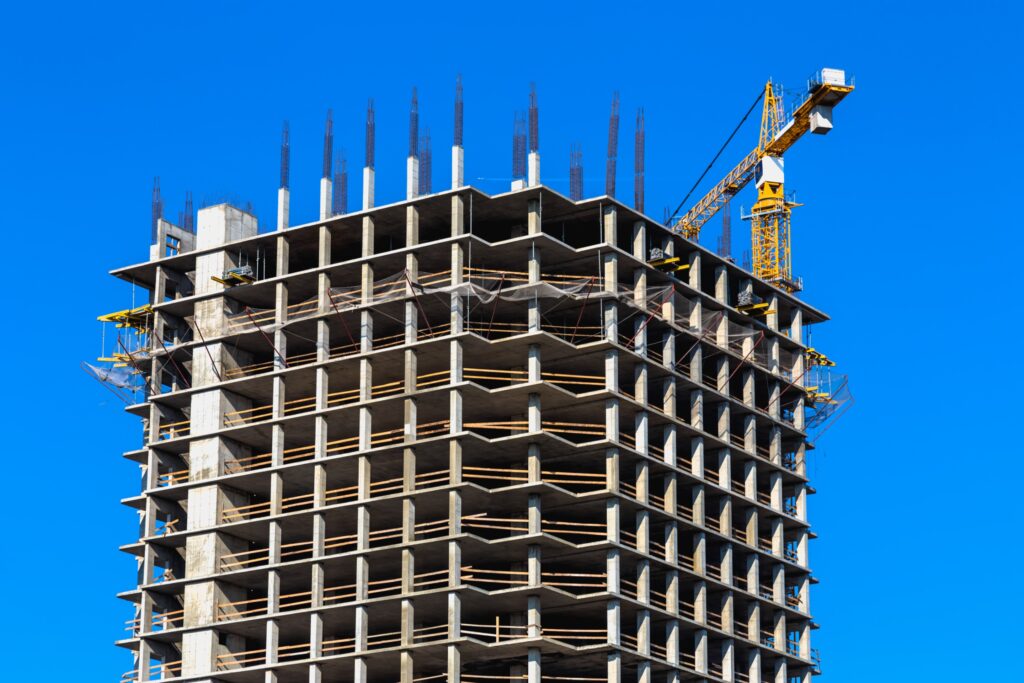 Starts activity in all nonbuilding categories gained in 2022, led by utility/gas plants, which rose 26%, according to Dodge, while highway and bridge starts were up 25% in the year. Environmental public works projects also increased by 15%.
The largest nonbuilding projects to break ground in December were:
The $2.2 billion Champlain Hudson Power Express transmission line across several counties in New York.
The $1.2 billion New Fortress Energy LNG terminal in Grande Isle, Louisiana.
The $535 million Black Diamond solar project in Morgan and Sangamon Counties, Illinois.
For the year, nonresidential building construction rose 38% from 2021, led by the surging manufacturing sector, which rose 185% over the year. Commercial starts were also 25% higher in 2022, led by office and hotel activity. Institutional starts were 19% higher in 2022, led by improvements in healthcare and education starts.
The largest nonresidential building projects to break ground in December were:
The $8.5 billion Golden Triangle Ethylene Cracker in Orange, Texas.
The $2 billion AltAir/World Energy renewable fuels facility in Paramount, California.
The $1.4 billion Stellantis electric vehicle plant in Kokomo, Indiana.
Residential building starts remained flat in December, but multifamily starts gained 8%. Residential starts were 3% lower in 2022 when compared to 2021, but multifamily starts were up 25%.
The largest multifamily structures to break ground in December were:
The $350 million first phase of the Hamilton Green complex in White Plains, New York.
The $240 million mixed-use project on Dekalb Ave in Brooklyn, New York.
The $230 million 54 Crown Street building in Crown Heights, New York.
---
This article originally appeared on ConstructionDive. The entire article can be found here: https://www.constructiondive.com/news/2023-begins-with-positive-momentum-for-construction/641186/
HydroLite Lightweight Aggregate Plays Key Role in Record-Breaking Structure
As if constructing the tallest building in the western U.S. weren't enough of an accolade, Hanjin Group set a record when a new addition to its property portfolio set an official Guinness World Record for the highest volume of concrete placed within an 18-hour period.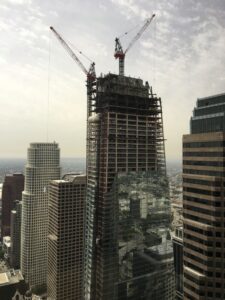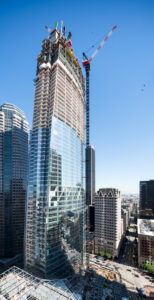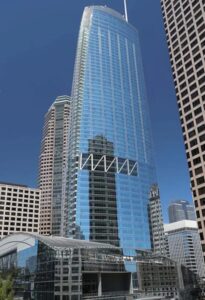 To make the foundation for the Wilshire Grand Center required more than 2,100 truckloads of concrete – a feat that entered the building in the Guinness Book of World Records for the largest continuous concrete placement in history. The structure not only boasts 900 hotel rooms, a 70th-floor sky lobby, and 445,000 square feet of office and retail space, but it is also the tallest structure in the western U.S.
Pumping No Issue
The project encompassed over 1.2 million square feet of lightweight concrete slab on metal deck. Its structure includes 15,000+ cubic yards of concrete that on metal deck – of which 10,000+ cubic yards that includes HydroLite® Lightweight Aggregate from Arcosa Lightweight. According to Charles Kerzic, Arcosa Lightweight Sales Representative, the lightweight concrete helped meet the fire rating without the need for an additional fire proofing cover. And because the lightweight aggregate is presoaked, pumping it up to the building's very high floors is easier than if traditional materials had been used.
Kerzic monitored the record-setting build with laser focus. He says that the lightweight concrete needed to finish the deck was pumped at 1,300 feet, 1,100 feet vertically.
Headed up by general contractor Turner Construction, the project also involved Conco Cement Company (the concrete pumper) and Catalina Pacific Concrete (a division of the CalPortland Company).
For the project, Arcosa Lightweight provided the lightweight aggregate for the concrete installed on the metal decking that surrounds the building's core/elevator towers. "That concrete needed to be lighter than normal concrete for engineering purposes," says Kerzic. Arcosa Lightweight manufactured the structural lightweight aggregate used for the project at its plant in Frazier Park, California. The ready-mix supplier replaced the "regular" weight granite with the lighter material. "The HydroLite lowers the concrete's unit weight from 147 pounds per cubic foot to just 115 pcf," Kerzic says.
Exceeding Expectations
The project is a great example of excellent teamwork among a general contractor, ready-mix concrete supplier, concrete placement subcontractor, pumping subcontractor, and lightweight aggregate supplier. "Everyone worked together to make sure the overall project was successfully pulled off," says Jeff Speck, Director of Technical Sales for Arcosa Lightweight. "This truly is a testament to the value of having a great team that works together well."
Quick Facts
Location of Project: Los Angeles, CA
Project Owner: Hanjin Group
Total Project Cost: $1.1 billion
Total Size: 73 stories, 1,100 feet high
Completion Date: 2017
---
View the Arcosa Lightweight Case Study Here: https://www.arcosalightweight.com/case-studies/structural-lightweight-concrete/wilshire-grand
Percentage of women in construction higher than ever
The share of construction workers who are women is at an all-time high and has steadily increased since 2016, according to data from the Bureau of Labor Statistics.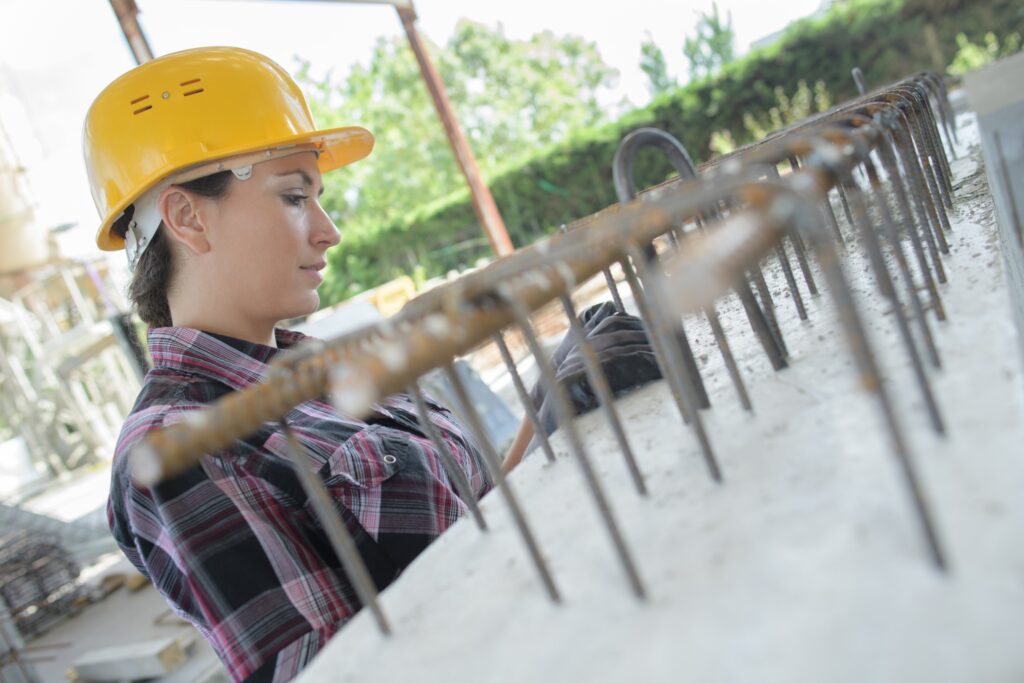 As of August, 14% of all construction workers were women, an analysis from The Washington Post found. The previous high point for women workers' share in construction was in October 2009, when they made up 13.5% of workers.
Hispanic women have largely contributed to that growth. The number of Hispanic women in the industry grew 117% over the last six years, the Post found, and in 2020, the share of Hispanic women overtook the share of White women in construction. The rates include women in office roles.
Washington, D.C., had the highest share of women in construction as of August, with 17.6%. Arizona and Florida nabbed second and third place, with 15.6% and 14.5%, respectively. Delaware had the lowest nationwide, with 6.8%.
The growth of women in construction is due in part to the industry's continued high demand for workers. The unemployment rate in 2016 for people who had most recently held a construction job was the lowest since at least 2000, according to BLS data. That meant recruiters had to look elsewhere from the usual pools to find new employees, which led to the continued increase.
The difference between the early aughts and the last few years can also be attributed to labor groups and employers removing or lowering hurdles to help broaden the pool of workers in the trades, as the industry grows more desperate for new talent. Though the industry has tried to lower the barrier to entry, it is still there. Women are harder to recruit, experts noted to the Post, because they often have less experience and often require more flexible hours than men for childcare considerations.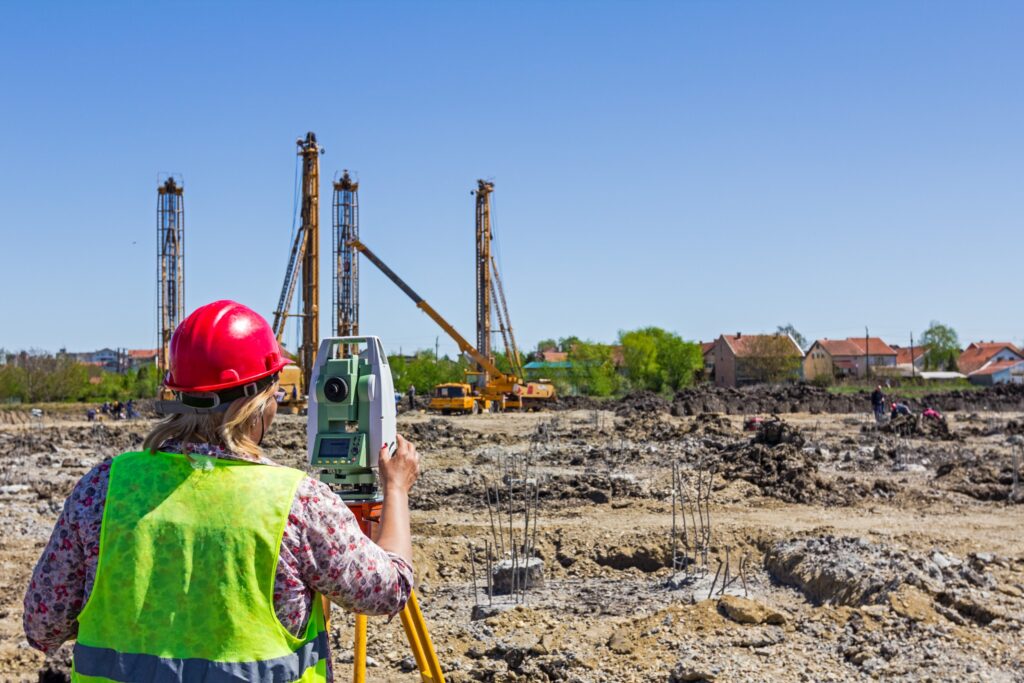 To continue this trend, experts say employers should set goals for diversity hiring and focus on inclusion and safety. Often, women may not see construction trades as a career option, so inclusive language on job postings and employee materials is critical to communicate that women already have a place on the jobsite.
In October, U.S. Secretary of Commerce Gina Raimondo announced the Million Women in Construction Initiative. While speaking at the North American Building Trades Union's Tradeswomen Build Nations Conference, Raimondo highlighted the goal of doubling the number of women in construction — from 1 million to 2 million — over the next 10 years.
Though she revealed no details as to how that goal will be met, Raimondo and the Biden administration hope that the Infrastructure Investment and Jobs Act along with the CHIPS and Science Act will open more doors for women and minorities. The IIJA establishes a Minority Business Development Agency within the Department of Commerce, which could help minority- and women-owned businesses win contracts and grants.
Source material for this article can be found here:
https://www.nawic.org/statistics
https://iwpr.org/iwpr-publications/briefing-paper/numbers-matter-clarifying-the-data-on-women-working-in-construction/
https://www.constructiondive.com/news/percentage-of-women-construction-higher-than-ever/637033/
Carson City Location Wins Safety Award.
Each year the Nevada Mining Association (NVMA) presents awards to mines in many categories. Arcosa Specialty Material's Adam's Claim just outside of Carson City, NV has been the recipient of a safety award in the Small Mine Non-Metal category for many years. NVMA recognizes outstanding achievement in worker safety through the Sentinels of Safety Awards. Sentinels of Safety are awarded annually to the nation's safest mines with a minimum of 4,000 injury-free hours.
The awards were initiated in 1925 by then-Commerce Secretary Herbert Hoover and remain the nation's most prestigious awards recognizing mining safety. This year the award was presented to Scott Lusty, GM and Randy Pryor, VP on September 10, 2022. Arcosa Specialty Material's Adam's Claim location has a weekly Safety Committee meeting dedicated to regular and specific site audits with the purpose of identifying potential safety issues and also finding ways to make our site safe for employees, customers and vendors. The time dedicated to this has been beneficial for safety and MSHA inspections.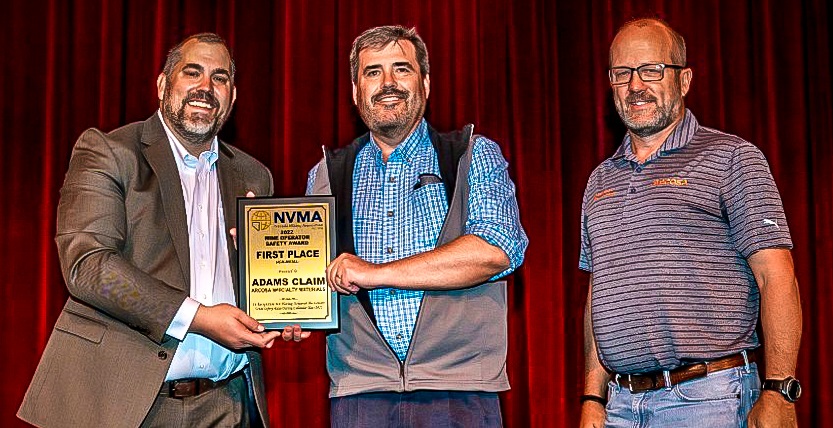 Receiving the award on September 10, 2022 are Scott Lusty, General Manager (middle), and Randy Pryor, Vice President (right).
Total Construction Starts Increase in October
Total construction starts rose 8% in October to a seasonally adjusted annual rate of $1.12 trillion, according to Dodge Construction Network. In October, nonresidential building starts gained 9%, and nonbuilding starts rose 26%. Residential starts fell by 3%.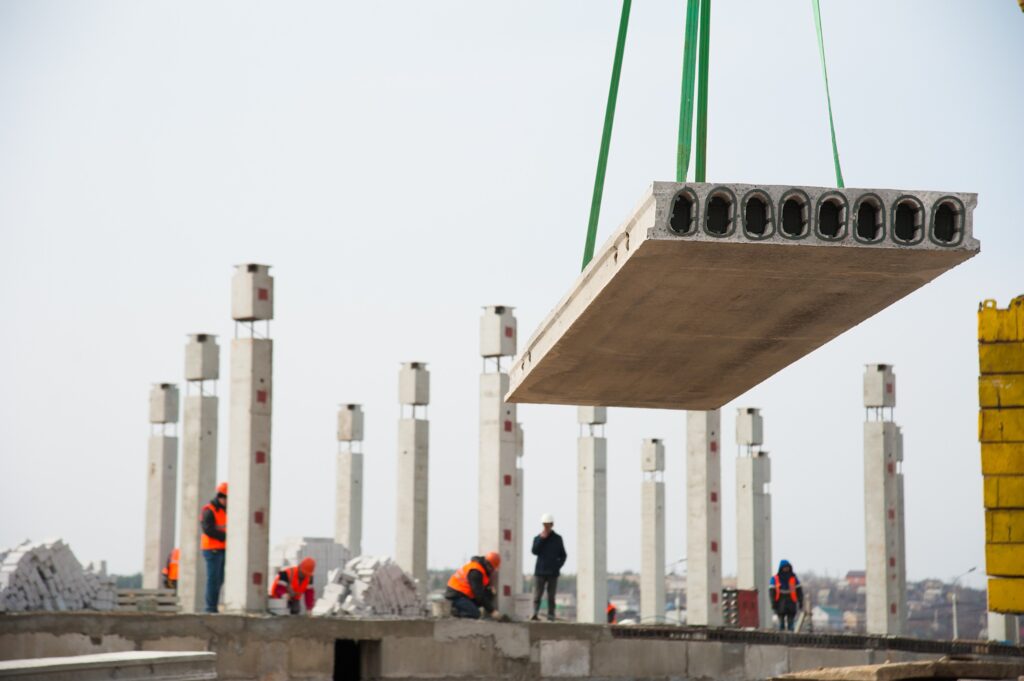 Year-to-date, total construction was 16% higher in the first ten months of 2022 compared to the same period of 2021. Nonresidential building starts rose 37% over the year, residential starts remained flat, and nonbuilding starts were up 17%.
"October's gain in construction starts is a further sign that the construction sector continues to weather the storm of higher interest rates," said Richard Branch, chief economist for Dodge Construction Network. "While the residential sector is feeling the pain, the nonresidential building and infrastructure sectors are hitting their stride. Some weakness is to be expected as the Federal Reserve continues its battle with inflation; however, the damage should be isolated to a few verticals and not as widespread as what the industry witnessed during the Great Recession."
Nonbuilding construction starts rose 26% in October to a seasonally adjusted annual rate of $277.7 billion. Highway and bridge starts rose 57%, while utility/gas plants increased 19%, and environmental public works were 13% higher. This growth is tempered as miscellaneous nonbuilding starts fell 20% in the month. Through the ten months of the year, total nonbuilding starts were 17% higher than in 2021. Highway and bridge starts were 25% higher, environmental public works were 14% higher, and miscellaneous nonbuilding starts increased 17% on a year-to-date basis. Utility/gas plant starts were flat.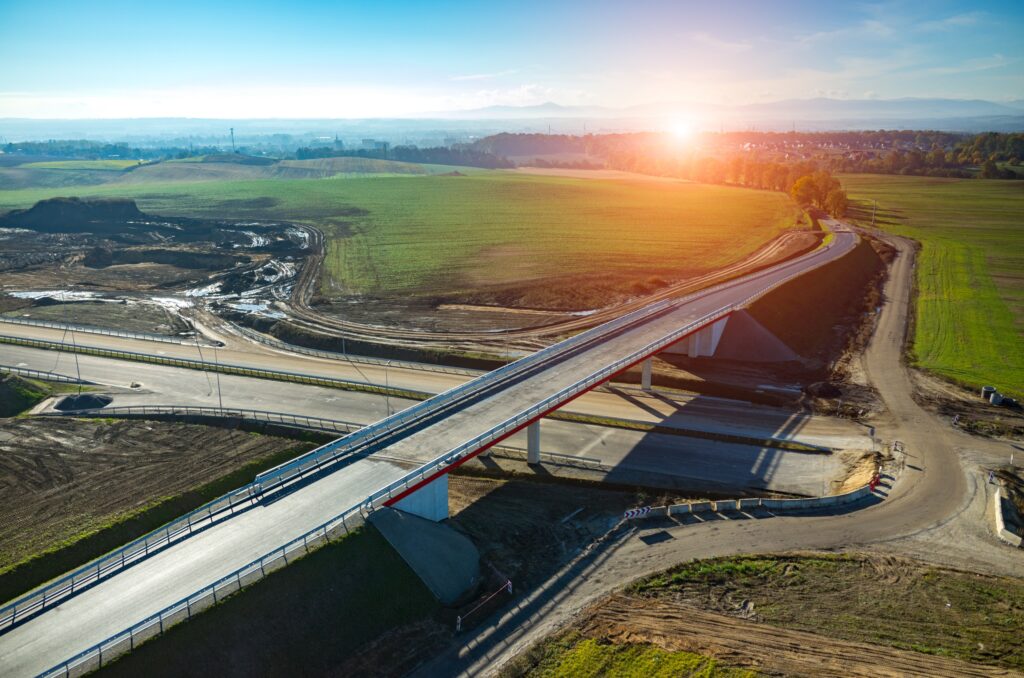 The largest nonbuilding projects to break ground in October were the $576 million TX DOT Interstate Highway 820 reconstruction project in Fort Worth, TX, the $548 million TX DOT Interstate Highway 35 widening project in Austin, TX, and the $364 million repaving project in Honolulu, HI.
Nonresidential building starts rose 9% in October to a seasonally adjusted annual rate of $480.5 billion. During the month, commercial starts rose 19%, led by office and hotel projects. Institutional starts rose 8% due to a surge in education projects, while manufacturing starts fell by 5%. Through the first ten months of 2022, nonresidential building starts were 37% higher than the first ten months of 2021. Commercial starts grew 23%, and institutional starts rose 21%. Manufacturing starts were 157% higher on a year-to-date basis.
The largest nonresidential building projects to break ground in October were the $3.2 billion Texas Industries chip fabrication plant (building 1) in Sherman, TX, the $2.0 billion General Motors Orion EV plant in Orion Township, MI, and the $1 billion Gevo Net-Zero 1 hydrocarbon plant in Lake Preston, SD.
Residential building starts fell 3% in October to a seasonally adjusted annual rate of $366.4 billion. Single family starts lost 3%, while multifamily starts dropped 4%. Through the first ten months of 2022, residential starts were flat when compared to the same time frame in 2021. Multifamily starts were up 26%, while single family housing slipped 10%.
The largest multifamily structures to break ground in October were the $564 million Long Island City Center II in Long Island City, NY, the $450 million Waldorf Astoria residences and hotel in Miami, FL, and the $167 million Modera McGavock mixed-use building in Nashville, TN.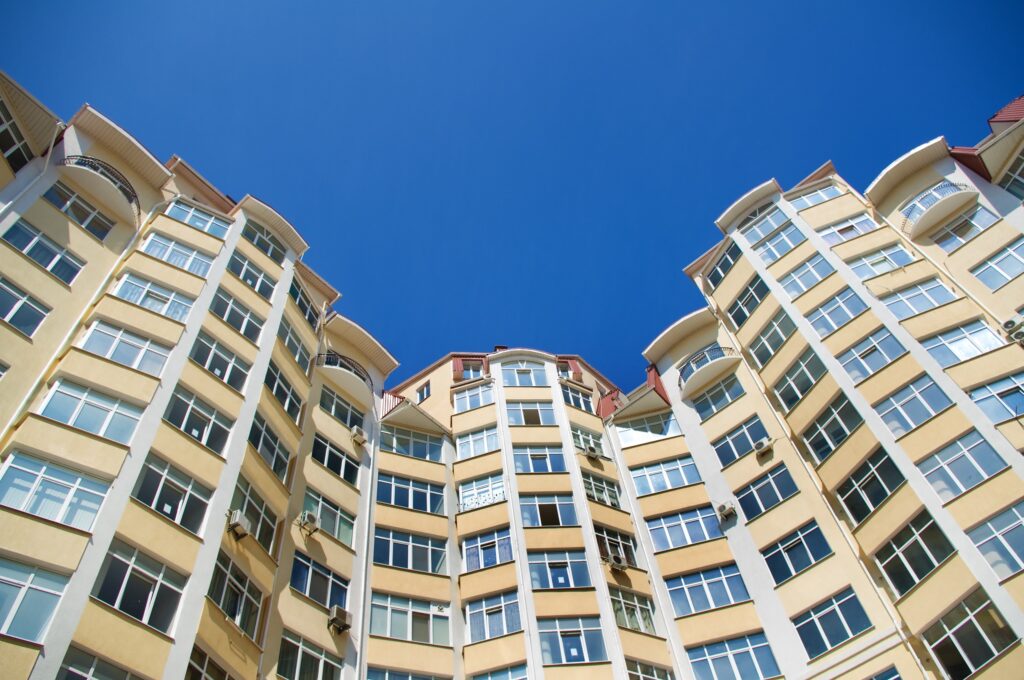 The largest multifamily structures to break ground in October were the $564 million Long Island City Center II in Long Island City, NY, the $450 million Waldorf Astoria residences and hotel in Miami, FL, and the $167 million Modera McGavock mixed-use building in Nashville, TN.
This press release originally appeared online here:
https://www.construction.com/news/October-2022-Starts
Employee Led Safety Program
Arcosa Specialty Materials is 100% committed to creating real change in our safety culture.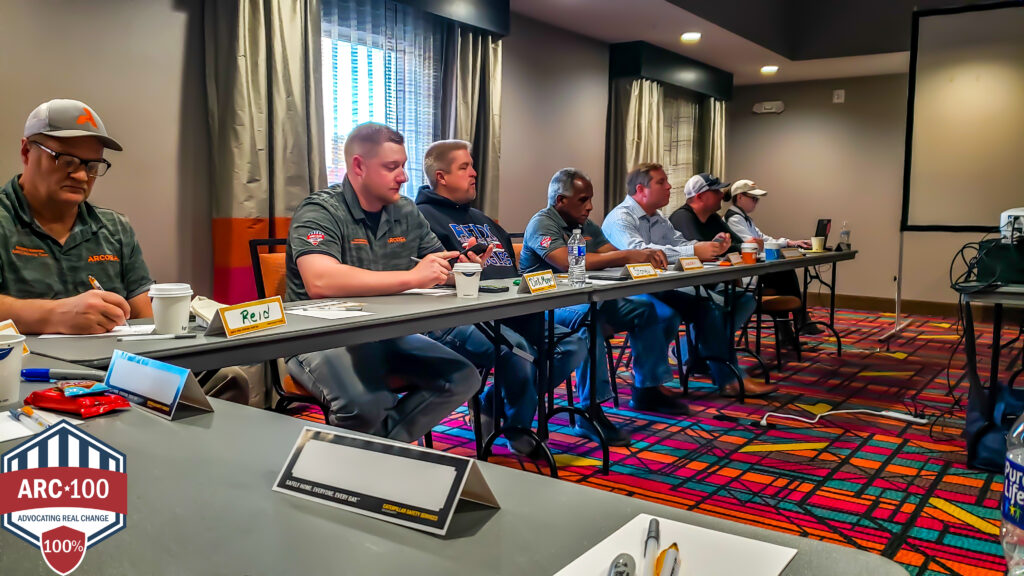 Arcosa Specialty Materials met recently to continue its safety journey. Employees from across the company came together in Norman, OK to review its most recent safety initiative and to plan for the future.
These are all part of the ARC 100 program. ARC is short for "Advocating Real Change". The 100% in the loco stands for 100% committed to safety. These programs are developed by front line employees and deployed company wide.
Previous programs launched recently include Arcosa Safety Briefings, a regular safety meeting where safety issues are raised and discussed. A second, Pre-Op inspections, provides a formal checklist to check equipment prior to operating it. The most recent is Observe-Share-Report, a proactive program designed to catch accidents before they occur.
Together they are the foundation for the safety journey that continues in Arcosa Specialty Materials. However, it's more than creating safety programs. It's changing a company's culture to embrace a "safety first" mentality each and every day on the job. Stay tuned for more safety updates!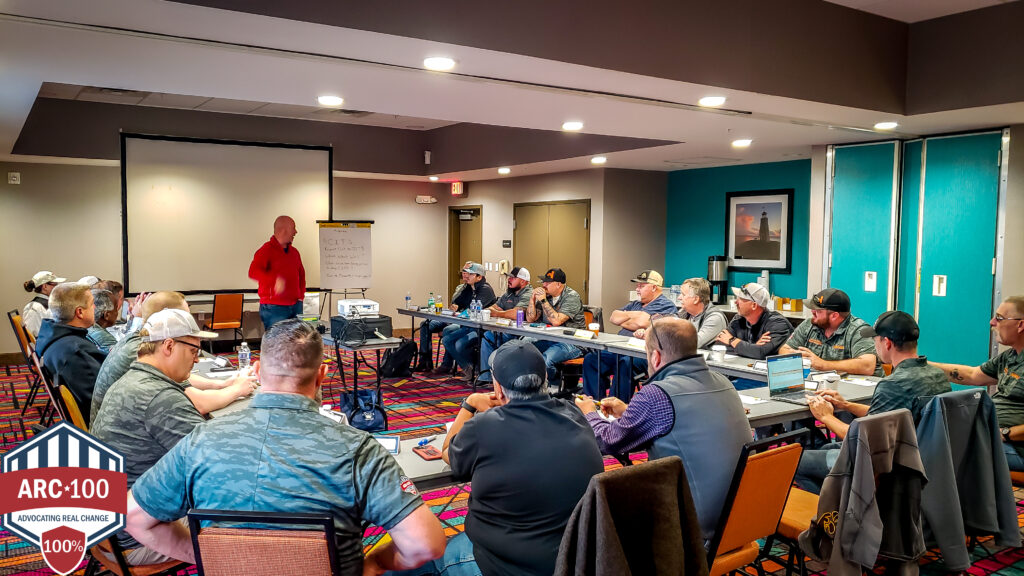 UPDATE: Fire and Sound Manual Released
New Fire and Sound Manual released to increase ease of access by architects.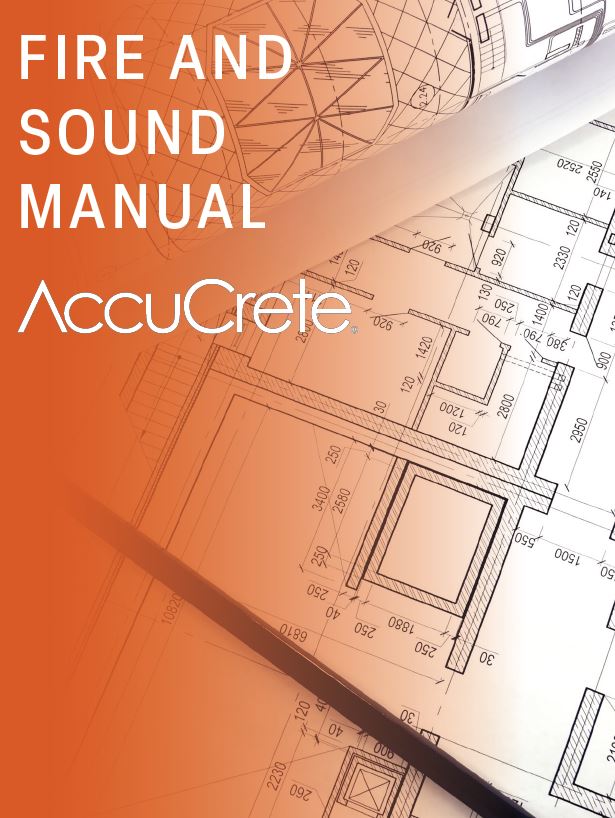 The Fire and Sound Manual
When designing UL assemblies, it's important to maintain a balance between acoustic isolation and fire protection. Both are essential for safety and comfort. Our designs all conform to the limits specified in the UL Design. This includes variables like insulation thickness, where and how it's placed in the cavity, and resilient channel spacing, and much more.
Image samples: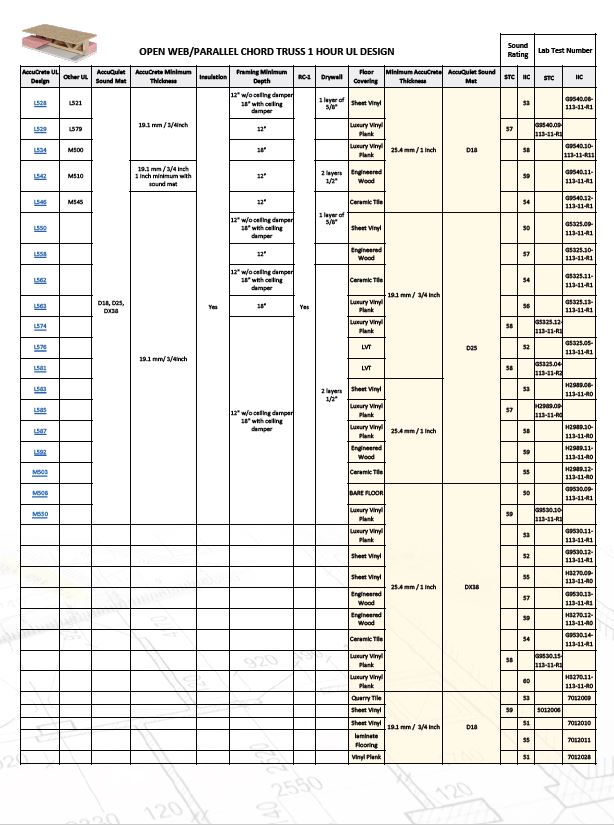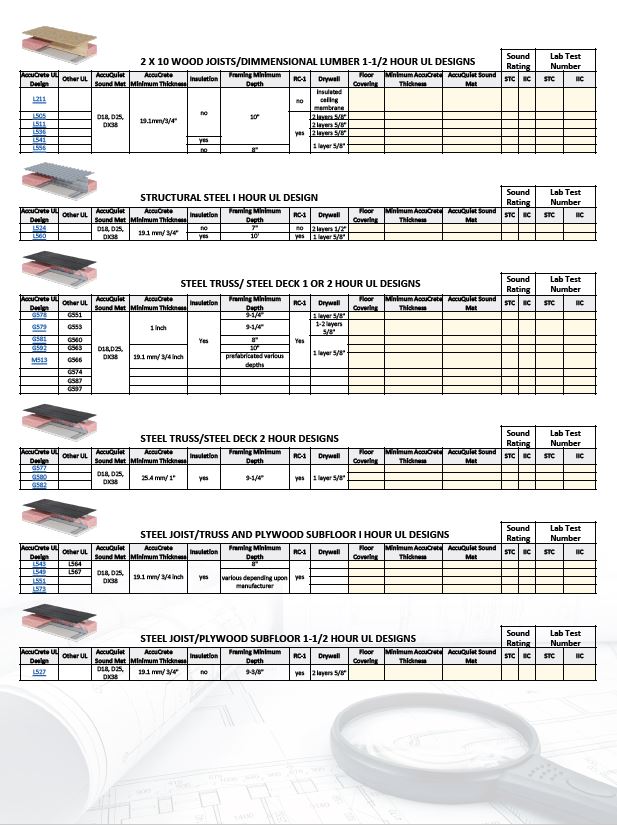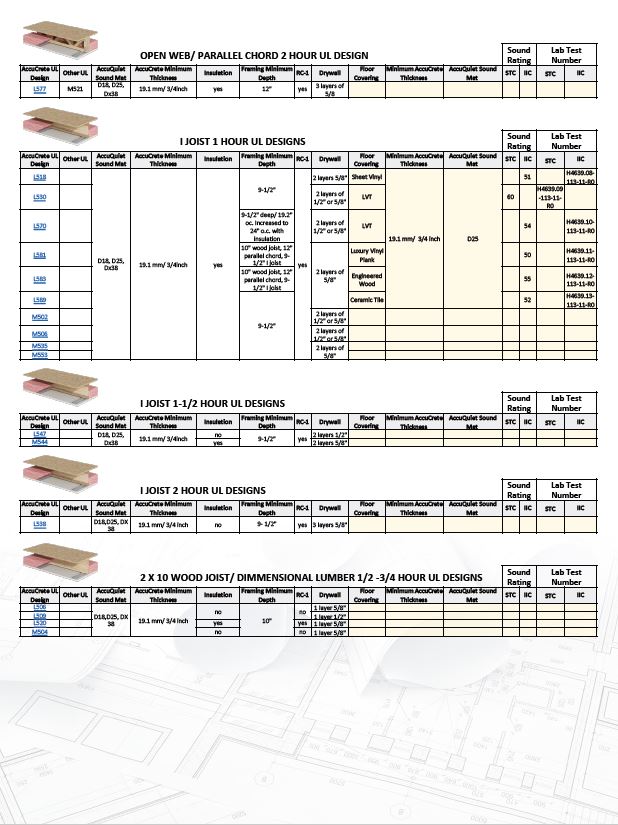 Content excerpt from the Fire and Sound Manual:
AccuCrete® and AccuLevel® underlayments are manufactured to rigorous ASTM standards, and have been tested to meet UL 1 and 2 hour fire rated designs. All AccuCrete® and AccuLevel® UL designs incorporate ultra low compressive AccuQuiet Sound Mats.
Section 1207.1 of the 2018 I. B. C. scope applies to common interior walls, partitions and floor/ceiling assemblies between adjacent dwelling units or between dwelling units and public areas.
Section 1201.2 of the 2018 I. B. C. scope applies to airborne sound for walls, partitions and floor/ceiling assemblies must have a sound transmission class (STC) of minimum 50 when tested in accordance with ASTM E90, laboratory test. Minimum 45 if field tested.
Section 1207.3 of the 2018 I. B. C. scope applies to structure borne sound refers to floor/ceiling assembles between dwelling units or dwelling units and a public area must have an impact insulation class (IIC) of minimum 50 when tested in accordance with ASTM E492, laboratory test. Minimum 45 if field tested.
---
To download the Fire and Safety Manual – Click Here
More Apartments Needed in US
New apartment units needed to mitigate issues related to apartment demand and the shrinking supply of affordably priced housing.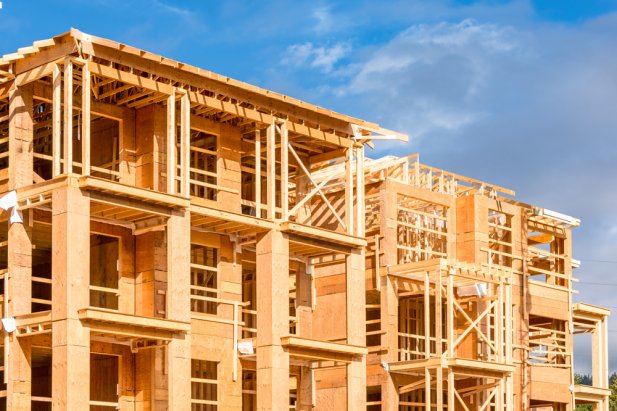 The U.S. needs 4.3 million new apartment units between now and 2035 in order to mitigate issues related to apartment demand and the shrinking supply of affordably priced housing, according to research commissioned by the National Multifamily Housing Council and National Apartment Association.
This number incorporates an existing deficit of 600,000 apartment homes, which the study attributes to underbuilding associated with the 2008 economic downturn. In addition, between 2015 and 2020, the nation's supply of affordable housing — defined as housing units with rents less than $1,000 per month — declined by 4.7 million units.
Caitlin Sugrue Walter, vice president of research for the NMHC says "The main reason for these units not existing is that we have had a reverse filtering phenomenon occur because of our supply shortage. Because there are not enough available units, it moves the asking rents up, reducing the number of affordable units."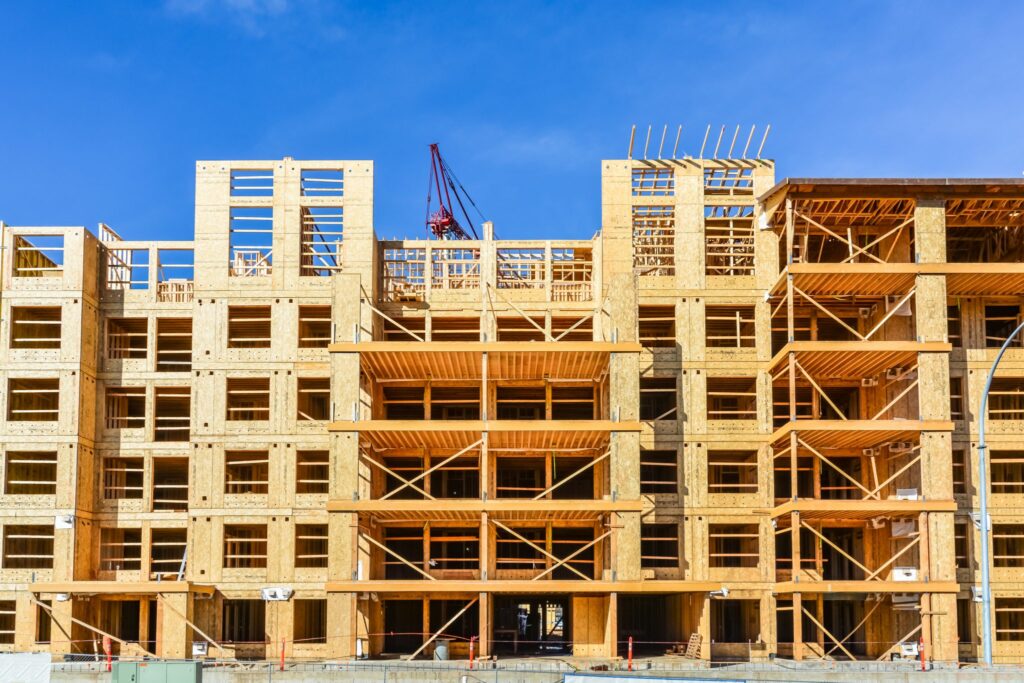 Currently, the U.S. has a population of 36.8 million apartment residents living in 21.3 million apartment homes. Approximately 266,000 new units need to be built each year to meet the demand for more, according to the report.
The full study estimates apartment demand from 2022 through 2035 at the national, state and top 50 metro level. Variables in this estimate include the homeownership rate — projected to increase by 3.8% — and immigration. While the immigration rate stands at a record low, a reversal of this trend could significantly raise apartment demand, according to a press release on the report.
The site also offers a calculator to estimate the economic contributions and impact of building in a given area, with variables based on building size and type.
Making progress
At the state level, Texas, Florida and California account for 40% of future demand. The report estimates that these three states together will require 1.5 million new apartments by 2023.
Walter noted that many jurisdictions in Texas are performing well toward the apartment construction estimates outlined in the report.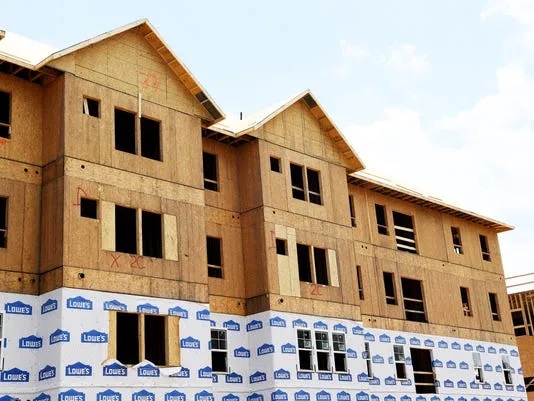 "[This] is good, because they comprise the bulk of the demand going forward," Walter said. "[The] Dallas metro area has been leading for quite some time in terms of the number of projects being built."
The report outlines a number of policy recommendations that the NMHC and NAA say will help solve the issues it presents. They include:
Policies at the local level that support housing construction, such as by-right housing development and reduced parking requirements.
The expansion of public-private partnerships.
The enactment of state laws that override local restrictions.
Federal policy in support of new construction, particularly affordable housing.
"There are some things that can be done at the federal level, such as creating incentives for localities to examine their local policies," Walter added. "Regulations are a huge driver of construction costs, which makes it difficult to build at lower, more affordable price points."
---
This article appeared on the website "Multifamily Dive" and can be read in its entirety here: https://www.multifamilydive.com/news/to-meet-demand-us-needs-43m-more-apartments-by-2035/628358/